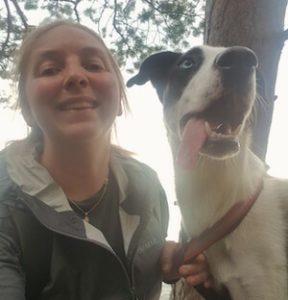 Linnea joined FOS Europe in October 2022. She loves working with people: her background before getting a BSc in Conservation biology was in hospitality, and she has a degree in hospitality management, focusing on marketing and revenue management. She has worked with freshwater biology and fisheries management at a county board in northern Sweden, which has included work on developing adaptive management plans for rivers through participatory processes, surveying wetlands, and planning restoration actions. She is training to become a conservation coach and is passionate about the intersection between sociology and ecology, creative and collaborative solutions to complex conservation issues, systems thinking, and adaptive management.
Languages: English, Swedish. Has also studied Italian, Spanish, and French.
Interests: Traditional ecological knowledge, botany, spending time by rivers and in old-growth forests. She is always happiest in nature, preferably by a river with her dog, good friends and a fly-fishing rod. During winter, she enjoys trying to knit an Icelandic wool sweater and ski with her husky-mix without falling over.
Education:
MSc in Conservation and management of fish and wildlife, currently finalizing thesis work at the Swedish University of Agricultural Sciences, Umeå, Sweden
BSc in Biology. Karlstad University, Karlstad, Sweden
HVE diploma in Hospitality Management, Yrgo Higher Vocational Education, Göteborg, Sweden
Contact Linnea to learn more about her work: linnea@fosonline.org