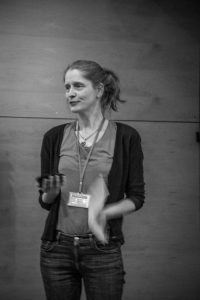 Daniela is the FOS Europe Operations Manager and provides technical support to the project portfolio.
Before joining the team in 2018, Daniela worked for almost ten years at the Eberswalde University for Sustainable Development, Germany. At Eberswalde, she was responsible for designing and coordinating projects related to conservation planning and the protection of European old-growth beech forests and for partnership development with (non-)academic institutions. Additionally, Daniela helped set up courses and served as a lecturer for adaptive management at multiple European universities. Daniela co-leads the European regional network of the global Conservation Coaches Network.
Currently, she is based in Copenhagen and enjoys living close to the sea.
Languages: German, English, Spanish
Interests: Old-growth forests and forest conservation, capacity-building, practice-oriented academic training, community-supported agriculture, good food, hiking and bicycling
Education:
MSc Global Change Management – Eberswalde University for Sustainable Development
BSc International Forest Ecosystem Management – Eberswalde University for Sustainable Development
Contact Dani to learn more about her work: daniela@fosonline.org