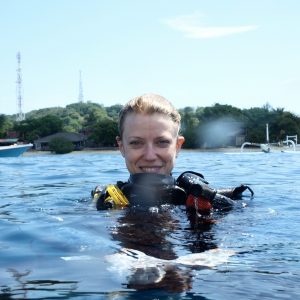 Sara is the communications and information design wizard of the team, helping to make reports, presentations, and other communications shine – both for partners and for the FOS Collective.
In her previous 13-year career in user-centred design, Sara helped create digital products and services that are easy and delightful to use. A few years ago, she decided to follow her heart, change paths, and start working for the marine environment. She spent two years at the secretariat of the Baltic Marine Environment Protection Commission (HELCOM), first working with website design and data visualisation, and eventually coordinating all of the secretariat's external communications. After another two years freelancing as a facilitator and information designer, mostly in the environmental field, Sara joined FOS Europe in 2020. She lives in Barcelona with her husband.
Languages: Swedish, Finnish, English, Spanish
Interests: Scuba diving, experiencing the wonders of nature near and far, West-African dances, reading, music, good food, failing at latte art. Favourite marine organisms: nudibranchs.
Education: MA Cognitive Science – University of Helsinki, Finland
Contact Sara to learn more about her work: sara@fosonline.org