Varsha joined the FOS team in 2020. In addition to her work as a Program Officer, she specializes in research, and monitoring, evaluation, and learning projects. Varsha joined the team after completing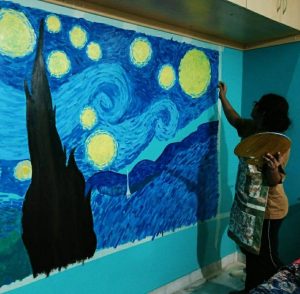 her Master's capstone project with FOS as an intern where she co-developed the Conservation Actions and Measures Library 2.0. After completing her bachelor's in life sciences research, Varsha decided to follow her passion and change paths to use her skills to advocate for effective conservation solutions. She is also an artist and illustrator and supports the team's creative communication and outreach needs. Varsha is passionate about working at the intersection of conservation planning and resilience building through the lens of human well-being. 
Varsha grew up in Bangalore, India, and is currently based out of Washington, D.C. She enjoys reading sci-fi/fantasy novels, wildlife spotting in the Western Ghats in India, mobile photography, and discovering the best vegetarian food in her current city.
Languages: English, Tamil, Hindi
Interests: Behavior change, human health & conservation, climate resilience building, scaling conservation solutions, design & communications
Education:
M.S. Environmental Conservation, University of Wisconsin-Madison

B.Tech Genetics, SRM Institute of Science and Technology, India
Contact Varsha to learn more about her work: varsha@fosonline.org